Most of what we feature on Experiencing Los Angeles falls into the category of "Points of Interest" but today I'd like to cover something a little more disinteresting; I-405. Like other freeways in the Southern California area, locals add a definite article when discussing I-405, so it is known as
THE
four oh five. According to David in LA, our resident LA historian, this is due to the fact that the freeways here used to have names rather than numbers (i.e., The Pasadena Freeway, The Santa Monica Freeway, The San Diego Freeway). And while this interstate is only 72.4 miles long and doesn't actually go to any other states it is the
busiest and most congested freeway in America
with an estimated 379,000 vehicles per day.
We're featuring the 405 because due to its location and congestion, as a visitor you will probably spend a significant amount of time on the 405 whether you like it or not. People spend a LOT of time, their whole lives, people are living, dying, and even recently,
people are giving birth on the 405.
So let's take a look at some of the most interesting aspects of a freeway that is so LA that it not only has its own twitter account but several parody accounts as well.
First of all, I have to mention traffic again. As previously stated, it is the busiest, most congested freeway in the entire country. But unlike other, lesser freeways, the 405 is busy all the time, not just during rush hour. You may land at LAX at 11:30 at night and jump on the 405 only to be stuck in stop and go traffic. The heavy traffic creates a natural boundary between the Westside and the rest of Los Angeles. It affects the behavior of commuters who have to travel from the east to the west sides and vice versa. Many West LA residents will shop, dine, and work on the west side only even though there are perfectly acceptable options physically closer, but which will take more time to get there.
Why is traffic so bad? I mean besides the fact that over a third of a million cars are on the freeway every single day? That would be the construction. As previously noted in Experiencing Los Angeles the 405 was the site of the
infamous and underwhelming Carmaggedon
. Although in defense of that event, that was the best cycling weekend that the Westside had seen in years. Los Angeles Metro is adding a high occupancy vehicle lane through the Sepulveda Pass that should wrap up "sometime in the next couple of years." In the meantime the 405 is experiencing intermittent ramp closures that make up for Los Angeles's lack of unexpected bad weather.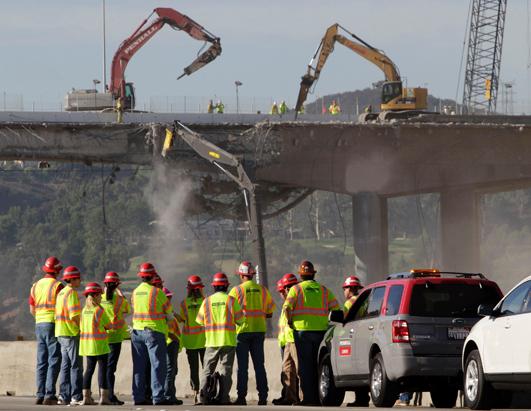 So what do you do when you stuck at home due to a traffic day (its like a midwest snow day but with Priuses instead of snow)? Fortunately the same governmental organization that is responsible for the unpublicized and secret ramp closures also has a secret and
unpublicized website of local discounts
so that you don't feel the need to go wherever you actually wanted to go, but to stay in the area instead. It even includes hotel discounts.
But in the event that you do happen to find a moment when the traffic is flowing smoothly, the 405 happens to run along some great LA sites such as the
Getty Museum
,
Randy's Donuts
,
Santa Monica Boulevard
, and UCLA. Just in case you think you might be able to get away without driving on the 405, I have some bad news, it also runs directly past both LAX and John Wayne Airport, which means you may want to bookmark this blog and start planning your trip accordingly.
While it is true that you will need to factor Los Angeles traffic into your sight seeing agenda, don't worry too much because there is plenty of sight seeing to do on the 405 itself! In addition to being in multiple films and mentioned in several songs it was the site and title of arguably the
first viral short film of the internet age
. To top it all off, it was the site of the most famous car chase of all time, the O. J. Simpson police chase.
-